About as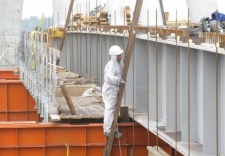 Polservice Geo Ltd. is a specialized company rendering a complete range of land surveying services with emphasis on the comprehensive service of construction projects in the scope of geodesy, monitoring surface movements (shifts?), as well as surveying and cartographic reports. Furthermore, in order to ensure our clients receive the most complex service our offer includes geology and geotechnical engineering. We provide our services during execution of infrastructural, industrial, hydro engineering and cubature objects.
Our services are characterized by top standards and norms required in the construction sector both in Poland and Europe. We employ around 100 highly-qualified and experienced professionals holding appropriate professional licenses. We have our own state-of-the-art equipment and sophisticated software at our disposal. The total value of the projects that we currently serve amounts to a few billion Polish zlotys. Our company boasts a stable financial standing and our activity is covered by a third-party insurance.
Polservice Geo Ltd. is a member of the Polservice group, an enterprise with an over 50-year long tradition. The combined turnover of all the companies in the group, totalling hundreds of millions Polish zlotys, gives us the necessary financial backing to take up even the largest projects in Poland and abroad.