Geology and geotechnical engineering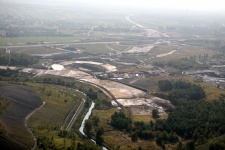 A comprehensive service of projects is another area of our activity, both at the stage of their preparation and then during execution in respect of reconnoitering geological-engineering, hydro geological and environmental conditions. Our service is addressed to designers and architects, as well as contractors and investors themselves at the stage of project preparation and decision-making concerning conception and location.
We are highly experienced in the execution of both cubature and linear objects. We have frequently advised our clients on adopting given technical solutions for foundation methods to be implemented. We have conducted works in low-bearing soil and in places where considerable ground settlement occurred as a result of mining works executed there.
We have a highly qualified scientific and technical staff, as well as state-of-the-art equipment. We cooperate with numerous academic centers, especially Warsaw University, Warsaw Technical Institute, Wrocław University, Silesian Technical Institute and other scientific institutions. Thanks to our extensive knowledge and wide network of contacts in scientific circles we can support our clients in disputes and claims within projects based on FIDIC.
The range of our services includes, i.a.:
Elaboration of geological-engineering technical documentation from design stage to final approval
Reconnoitering of soil/water conditions for design and foundation execution
Field works including exploratory drillings and soil sounding, as well as geophysical testing
Aquatic legal surveys
Environmental pollution examination (analyses on heavy metals and petroleum derivative substances content)
Hydrogeological supervision on dewatering works for engineering works in deep excavations
Performing necessary laboratory tests
Elaboration of reports containing investigation results, calculation of subsoil capacity and settlement, as well as suggestions concerning foundation works
Geotechnical service of current construction projects embracing foundation cuts control, soil compacting tests and bank load capacity